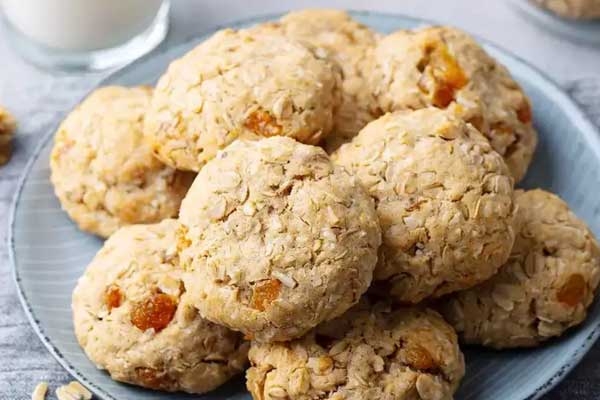 (Image source from: recipes.timesofindia.com)
Homemade cookies are the best as they are healthy and tasty. Just like they are baked in the bakery, you can make them at home. Nutty Cookies are made using nuts and oats and they are loaded with almonds, cashew nuts and raisins. Chocolate chips can also be added. Nutty Cookies can be baked in 15 minutes and they can be stored in an air-tight container for seven days.
Ingredients:
1/2 cup rolled oats
1/4 cup refined flour
1/4 cup almonds
1/4 cup powdered sugar
1/4 teaspoon baking soda
75 gm butter
3/4 cup oat flour
1/4 cup cashews
2 tablespoon raisins
1/4 teaspoon baking powder
2 tablespoon honey
Process:
Add some rolled oats, oat flour, powdered sugar, refined flour, baking soda, baking powder, crushed cashews and crushed almonds. Mix all these ingredients well. Add some honey and mix it completely. Add some butter. Mix them completely using hands so that it turns soft. Keep them in a baking tray or in parchment paper. Flatten them and get the shape of a cookie. Keep them on the baking tray. Slide the tray into a oven and bake it at 180 degrees for 15 minutes. Take out the tray after it is baked and let them cool down. Once cooled, the cookies will turn crispier.
By Siva Kumar